SantaSpeaking.com puts Santa Claus directly in touch with little boys and girls all over the world through personalized phone calls.
Created by "Founding Elf," Anne Gaskell, SantaSpeaking.com seeks to provide authentic Santa Claus experiences that are modeled after the ideal Santa figure – that generous and loving, all-knowing fatherly/grandfatherly friend who knows if a child is doing his homework, helping with chores, and getting along with brothers and sisters.
Unfortunately, the Santa at the local mall does not always fit this ideal, which is why SantaSpeaking.com takes great care in delivering an experience that conveys the true magic of Santa and celebrates the spirit of Christmas.
SantaSpeaking.com has found that children worldwide believe in the magic of Santa Claus, regardless of their religious background. Children benefit from having faith in a spirit that represents the value of generosity and the ethics embodied by Santa Claus. SantaSpeaking.com is committed to fostering this magical spirit in all Santa Believers.
SantaSpeaking.com's goal is to focus simply on the spirit of Santa Claus and all that it entails - the essence of goodness and generosity which is universal to all Santa Believers.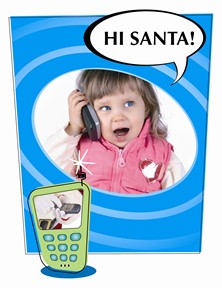 At www.SantaSpeaking.com, parents can arrange for Santa to make a personal phone call to their children. The calls are fantastic gifts for nieces, nephews and grandchildren as well.
Creating wonderful holiday memories for children and preserving the magic and spirit of Santa Claus and the Christmas season is the mission of SantaSpeaking.com.
Listen to a Sample Call! (MP3)