About Anne Gaskell (AKA: Elf Annie)
Byline:
Anne Gaskell is founder of www.SantaSpeaking.com, where she is known as Elf Annie. Gaskell's mission is to keep the spirit of Santa alive through an interactive Web site that tracks Santa's flight on Christmas Eve, among other things, and schedules personalized phone calls to children from Santa. Contact her at anne@santaspeaking.com.

Broadcast Bio:
As everyone knows, Santa Claus is a very busy man, especially as we get closer and closer to Christmas. Although he's got a lot to do, Santa does have time to squeeze in a phone call or two, with the help of Elf Annie (also known as Anne Gaskell), founder of SantaSpeaking.com.

Elf Annie manages the big guy's calendar and schedules personal phone calls to children from Santa. Kids can also log on at www.SantaSpeaking.com and read Santa's blog, send him an e-mail, check out the weather on the North Pole, and even track Santa's progress across the globe on Christmas Eve. Elf Annie's mission is to preserve the spirit of Santa for all the Santa Believers out there. She has some tips to offer kids on how to stay on the nice list and some insight for parents wondering what the most requested toys are this year. Welcome, Anne.
Full Bio: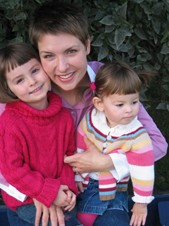 Anne Gaskell is SantaSpeaking.comís founding Elf, and mother to three Santa Believers (two pictured here). Gaskellís degree may be in Interior Design and Fine Arts, but her chief responsibility at the helm of SantaSpeaking.com is dreaming up ways to keep Santa and SantaSpeaking.com fresh and fun for families!
Sheís doing pretty well, considering the fact that SantaSpeaking.com is the most popular, highest rated, MOST talked about Santa Calling Service online. Gaskellís appearance on the Today Show last Christmas is evidence of the siteís popularity.

Keeping track of Santa is a year-round job that gets especially busy around Christmas time. Gaskell is always on the lookout for new ways to bring the spirit of Santa to boys and girls all over the world. She has deep passion for children and a special place in her heart for creating unforgettable Christmas memories for Santa Believers. She refuses to settle for second best when it comes to Santaís reputation as the ever present, all knowing spirit of Christmas.
If you'd like to schedule an interview with Anne Gaskell, please contact Michelle Tennant at 828-749-3200 or michelle@tennant.org.