See Anne Gaskell on Rachael Ray!
What is at the top of every child's Christmas list? A phone call from Santa!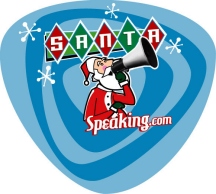 We all know how busy Santa is on Christmas Eve, but during the rest of the year, he has some time for a few special requests from parents around the world.
SantaSpeaking.com manages Santa's "off season" calendar, and arranges personal phone calls from Santa to little boys and girls as he prepares for the big day. When Santa calls, his conversation with the children can be recorded so they can enjoy it forever.
Download SantaSpeaking.com's One_pager .
This online press kit is designed to meet the needs of the media. You can also visit the Web site www.SantaSpeaking.com. If you have a specific request, please contact us.